News
---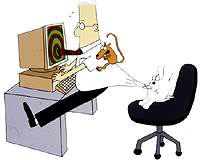 6.12.00 - Don't miss Larry Miller in "Corrina, Corrina" tonight on ABC.

5.10.00 - Larry Charles is creating a one-hour special starring Bob Dylan for HBO. "It's Bob Dylan doing a TV show," Charles told The Hollywood Reporter. "Like Bob Dylan himself, it will be unpredictable, unsettling, distinctive, original and entertaining all at the same time. You'll walk away feeling satisfied." Which songs will Dylan play? It's yet to be decided.

4.26.00 - "Dilbert" will be back on UPN May 30th.

2.15.00 - A week after UPN announced it was putting "Dilbert" on indefinite hiatus, the producer of the show said Monday it would netcast an episode of the show along with some outtakes. The 22-minute previously aired episode entitled "The Merger" will air commercial-free on the web from February 17th through 29th. It marks the first time that a primetime network show has been legally streamed in its entirety on the web. Never-been-aired "Dilbert" outtakes and footage selected by series creator Scott Adams will also be streamed, with community discussion groups and interactive offerings built around the broadcast. The event is built around the February 22nd airing of a new episode, "The Return," featuring the guest voice of Jerry Seinfeld. UPN will put "Dilbert" on hiatus after March 14, and no return date has been announced.

11.15.99 - "Dilbert" got Loser of the Week from Entertainment Weekly for its season two premiere finishing in dead last place.

8.27.99 - Supervising producer Jeffrey Kahn will be writing the script for a new time-travel romantic comedy from Columbia Pictures entitled Park Jester. Jennifer Love Hewitt, star of the new "Party of Five" spin-off "Time of Your Life," will star and coproduce.

8.18.99 - Jerry Seinfeld will follow Jason Alexander's lead and make a guest appearance on "Dilbert." In a second season episode titled "The Return," Seinfeld will be the voice of a computer. For more details, see the Previews page.

7.22.99 - "Dilbert" received a 1999 Emmy Award nomination for Outstanding Main Title Design.

4.2.99 - Jason Alexander (George from "Seinfeld") has been cast in the recurring role of Catbert, Dilbert's evil human resources director. Catbert will be featured in two episodes this season.

2.10.99 - Entertainment Weekly has a very short bit about "Dilbert" on page 65 of the February 12th issue.

1.25.99 - A life-size figure of Dilbert rang today's bell at the New York Stock Exchange, signaling the opening of trading. Talk about a promo gimmick!